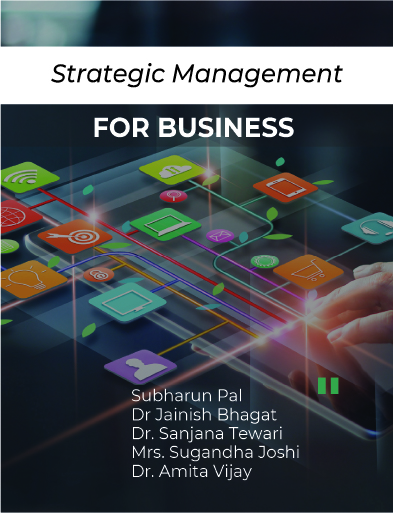 About The Editors

Subharun Pal, an ardent proponent of assimilating erudition from myriad disciplines, indefatigably strives to amalgamate these diverse spheres to address and surmount societal enigmas. Presently, he devotes himself to the pursuit of a distinguished triumvirate of academic accolades: a Doctor of Business Administration from the revered Swiss School of Management in Bellinzona, Switzerland; a Professional Doctorate in Education conferred by the European International University, ensconced in the resplendent Parisian metropolis, France; an MTech (Ex.) bestowed by the eminent 'Indian Institute of Technology Jammu' in Jammu & Kashmir, India; and an EMBA in Finance from 'Indian Institute of Technology Patna', Patna, Bihar.
Mr. Pal's proficiency spans a decade of immersion in multifarious aspects of the e-commerce ambit, including Business Analytics, Business Intelligence, Operations, Logistics, and Supply Chain Management, thereby accumulating a copious reservoir of adeptness. His peerless contributions to antecedent establishments have culminated in a cornucopia of eulogies and laudatory dispatches.
Antecedent to undertaking his doctoral pursuits, Mr. Pal secured an MPhil in Management from Dr. CV Raman University in Bilaspur, Chhattisgarh, India, an MBA in Information Systems from Edith Cowan University in Perth, Western Australia, and an MTech in Computer Science Engineering from Karnataka State Open University in Mysore, India. Moreover, he has completed Executive Programs in Applied Finance from the Indian Institute of Management in Kolkata and Ranchi, India, and claims a Post Graduate Diploma in Supply Chain Management from the Confederation of Indian Industry in Chennai, India, with the Indian Institute of Materials Management as a knowledge consort, and a Post Graduate Diploma in Business Law from the esteemed National University of Juridical Sciences in Kolkata, India.
In conjunction with his already impressive compendium of qualifications, Mr. Pal has amassed a diverse panoply of certifications, including Prince2 Practitioner from APMG, LSSBB from ISEL Global, and Combined Lead Auditor Training Certification in ISMS/ITSMS/BCM from Exemplar Global, as well as ITIL from Tüv Süd Akademie Gmbh. Furthermore, he proudly holds certifications in CEHv6 from EC Council, CCNP from Cisco, MCSE from Microsoft, SCJP and SCWCD from Sun Microsystems, and Linux system administrator from NIIT. Additionally, he has obtained certifications in Statistical Techniques for Data Mining & Business Analytics from the Indian Statistical Institute in Bangalore, Karnataka, Contract Management and Public Procurement from The World Bank in the USA, and Cyber law from Indian Law Institute in Delhi, India. He has also received tutelage in HR Management from Singapore Human Resource Institute and International Arbitration from Singapore International Arbitration Centre, both domiciled in Singapore.
Subharun, an accomplished academician proficient in a multitude of disciplines and possessing expertise in several distinct fields, has promulgated his research conclusions via an extensive collection of fifteen indices sanctioned, peer-scrutinised periodicals of both national and international acclaim. Beyond his individual pursuits, he has been integrally involved in the penning of a series of five academic tomes, in addition to making indispensable contributions to a limitless anthology of book chapters. His intellectual eminence has punctuated a myriad of colloquia and congresses, not merely within the territorial borders of our nation, but also permeating the echelons of international academic discourse.
Mr. Pal has amassed a substantial collection of commendations, including the highly regarded 'Best Supply Chain Professional Excellence Award 2023', a recognition conferred upon him by the 'Global Research Conference Forum'. Further notable acknowledgments include the 'Senior Scientist Award -2023' bestowed by the 'Council of Research and Sustainable Development', India, an accolade jointly conferred by the 'Society of Education', India, and the 'European Laser Academy', Germany. Furthermore, he has been the recipient of the 'Aspiring Icon 2K23 Award', a tribute by the 'Inspiring Icon Magazine', as well as the 'National Youth Icon Award', a distinction conferred by the 'Magic Book of Records', with both establishments being rooted in India.
During his leisure hours, he indulges in his passion for peripatetic adventures, seizing opportunities to traverse enigmatic and mesmerising terrains. Additionally, he delves into erudite endeavours, predominantly concentrating on augmenting his understanding of the intricate spheres of management, jurisprudence, education, engineering, and cutting-edge technologies. An indefatigable polymath, Mr. Pal persistently seeks to enrich his repertoire of knowledge and skills, steadfast in his commitment to employ his intellectual capital in service of addressing pressing societal quandaries.
As a keen advocate for the cross-pollination of ideas, Mr. Pal frequently participates in interdisciplinary collaborations and projects, seeking to foster innovation and engender transformative solutions through the convergence of distinct fields. His endeavours have resulted in the inception of novel approaches to addressing contemporary challenges, often transcending traditional boundaries to create synergistic outcomes.
Mr. Pal's propensity for mentorship and fostering the growth of others has also led him to assume various pedagogical roles, both formal and informal, within academic and professional settings. His dedication to the diffusion of knowledge and the nurturing of nascent talent has cultivated a rich legacy of individuals emboldened to pursue their own intellectual and professional aspirations.
In sum, Subharun Pal stands as a testament to the power of interdisciplinary acumen, the pursuit of personal and intellectual growth, and the indomitable spirit of inquiry. His life's work encapsulates a profound commitment to utilising his multifaceted expertise in service of surmounting societal challenges, inspiring the next generation of thinkers, and leaving an indelible mark on the world.
Dr. Jainish Bhagat, (Ph.D., MBA (Finance) Gold Medal, CA, PGDRM, NET JRF(Commerce & Management Both), B.Com.)
Dr. Jainish Bhagat is Associate Professor and MBA - Coordinator in the School of Liberal Arts & Management Studies of P.P Savani University. He is having 10 years of academic exposure in teaching Graduate and Post Graduate students of various specializations like Management, Commerce and Pharmacy Management. Dr. Bhagat has mentored more than 600 UG and 100 PG students for their research work. He has completed his Ph.D. on the topic entitled "A Role of Merchant Banks in Indian Capital Market" from Dr. Babasaheb Ambedkar Open University (BAOU), Ahmedabad. He has published more than 10 research papers at national and international level with very good indexing. He has contributed the chapters in many books in the area of Financial Management, Advanced Financial Management, Stock Exchange and Portfolio Management, Corporate Financing, Corporate Accounting and many more. He has delivered as an expert and as a guest lecturer in several institutes nationwide. He has been awarded with the best paper for his work. He has participated in many national and international level conferences. He has been functioning as a professional with various industries for the last several years. Dr. Bhagat has organized and managed Management Development Programs in various institutes across the nation on both offline and online modes. His area of interest is Financial Management, Corporate Finance, Investment Management, Portfolio Management, Project Financing Evaluation, Banking, Corporate Laws, International Financial Management, and Financial Analytics.
Dr. Sanjana Tewari, Currently working in Amrapali Group of Institutes as an Assistant Professor she is a Ph.D in Management, UGC NET and MBA in Marketing and HR along with 13 years of core academic experience. She has also been associated with management colleges in Delhi/NCR and has been dynamically involved in conducting workshops, trainings and FDPs. An excellent orator and confident person, she has been invited as guest speaker in multiple universities. She has also conducted various personality development programmes for graduate and post graduate students.
To expand her research horizon she has contributed multiple research papers in Indian and international journals of high repute. Her areas of interest include employee engagement, work life balance, digital marketing and organizational behavior.

Ms Sugandha Joshi, Assistant Professor, Amrapali Group of Institutes, Haldwani, Uttarakhand, Research oriented, Dedicated and Reliable professional working in a full time Assistant Professor profile with 6 years of academic and 6 years of corporate work experience. Currently pursuing Phd. Masters degree in Management with Specialisation in Human Resources and International Business. Strong interpersonal and communication skills, Teaching and supervising students in a university setting with research writing and presentation skills. With my credentials and enthusiasm to teaching excellence I am seeking for growth and opportunities in the field of Management.
Dr. Amita Vijay, (Ph.D., M.Phill (Business Finance and Economics), PGD-SAPD (Post Graduate diploma in Security analysis and Portfolio Management) MBA (Financial Management)
Dr. Amita Vijay is working as Assistant Professor, in the Department of Commerce and Management, Poddar Management and Technical Campus, Jaipur. She is having 12 years of core academic experience in teaching Graduate and Post Graduate students of various specializations like Management and Commerce. Dr. Amita has completed her Ph.D. on the topic entitled "Role of Microfinance in Women Empowerment, a case study of Jodhpur" From Jai Narain Vyas University, Jodhpur, and Rajasthan. She has contributed to multiple research papers in National and international journals. She has participated in many National and International conferences. She has been dynamically involved in conducting workshops, trainings and FDPs.
About The Book
"Strategic Management for Business" is a comprehensive guide that unlocks the secrets of effective strategic decision-making and execution in the dynamic world of business. This book serves as a practical roadmap for entrepreneurs, executives, and students seeking to develop a deep understanding of strategic management principles and their practical application. From analyzing the business environment and formulating strategies to implementing and evaluating their outcomes, this book covers the entire strategic management process. Drawing from real-world examples and case studies, it offers valuable insights into the complexities of modern business landscapes and provides the tools needed to navigate them successfully. With a balance of theory and practicality, "Strategic Management for Business" offers a wealth of knowledge on topics such as competitive analysis, strategic planning, innovation, resource allocation, and organizational adaptation. It equips readers with the skills and mindset necessary to make informed strategic decisions and drive sustainable growth in today's competitive business environment. Whether you are a business professional looking to enhance your strategic thinking or a student seeking a comprehensive understanding of strategic management, this book is your indispensable guide to mastering the art of strategic decision-making.