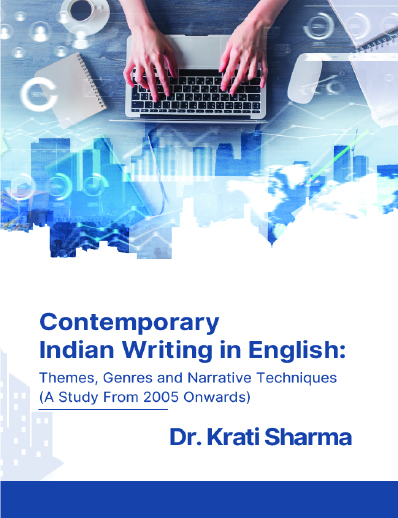 About The Editor
Dr. Krati Sharma, is currently working as an Associate Professor of English at the Poornima Institute of Engineering and Technology, Jaipur. She has extensive expertise in Autobiographical writing, Gender Studies, and Indian Writing in English. She holds a PhD in Gender Identity and Narrative Perspective in Indian Women Autobiographies from Jaipur National University, Jaipur. She has been teaching English for more than 15 years. She had associated with Govt. MMR PG College Champa (CG) and IIHT Champa during her teaching assignments. She has authored three books to her credit. She has written many chapters for the edited volumes. She has written many scholarly articles for UGC-listed Journals. She has presented papers at many National and International Conferences. She has done courses on English for Specific Purposes from Oregan University America, Developing Soft Skills and Personality from IIT Madras, The Philosophy of (Auto) Biographical -Experience and (Self) Representation: An Interdisciplinary Course from IIT Tirupati, Literature and Life from IIT Madras, English Literature of the Romantic Period, 1798-1832 from IIT Madras. She has been an active member of i-SPELL, Rajasthan Forum. She has been the examiner of the BN University, Udaipur, and Rajasthan Technical University, Kota.
About The Book
Indian Writing in English began in the early twentieth century with the work of Madhusudan Das, Toru Dutt, Rabindranath Tagore and Sarojini Naidu. Post independence the trio Rajaroa, Mulk Raj Anand, R.K.Narayan, gives it wings and gives it an international image and acceptance among the English readers. With the Booker Prize winners writers like Arundhati Roy's and Arvind Adiga Indian English writing keep treading steadily on the global map. This book is a reflection on themes , techniques and narration of the last two decades harnessed in Indian Literature in English. The volume explores many themes from autobiography, medical humanities, gender roles, globalisation, management skills, trauma, dalit writing, fiction in films and plethora of themes giving dimension to Indian Writing in English a new age readership and research insight. The aim of this book is to provide critical analysis of the literary text which has been a part of syllabus taught in the English Literature of Indian Universities.
It provides an opportunity to the researchers and students to understand the text better and explore the new avenues for the research. This book aims to bring Indian Writing in English to a global map.The book aims to bring good critical study volumes for the students and scholars of Indian Writing in English in international level.