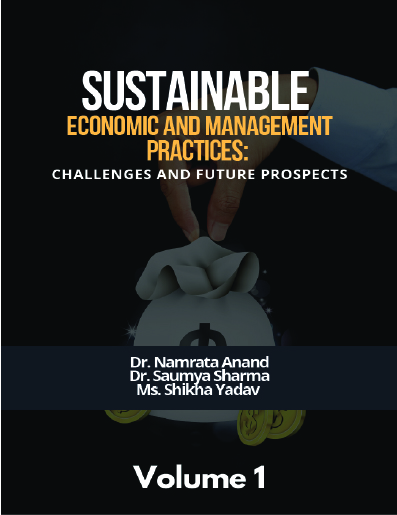 About The Authors
Dr. Namrata Anand, currently working as an Assistant Professor in the Department of Economics, Dayalbagh Educational Institute, Dayalbagh, Agra. Her research specialization is in International Economics, International Business, Development Economics and Sustainability. She has total 6 years of work experience. In academics she has excellence on International Economics, Microeconomics and Macro Economics. She consists of research experience from Indian Institute of Foreign Trade, an apex think tank of Ministry of Commerce and Industry. At IIFT, she has worked over various government and ministerial projects. In Academics she have experience of Manav Rachna International Institute of Research and Studies, Faridabad and The NorthCap University, Gurgaon. She has immense number of research papers and book reviews in esteemed journals, articles in magazines & newspapers and book chapters in book.
Dr. Saumya Sharma, in her pursuit of academic excellence, is a firm believer of knowledge upgradation. Apart from her double masters, she holds a doctorate degree from ICFAI University Dehradun in the field of training. Her academic and teaching interface, student engagement and research skills were honed during her work experience of 10 years in the field of higher studies with institutions like IMS Unison University, Kelvin Institute, UPES- Dehradun and ICFAI University- Hyderabad. At present, she is associated with The NorthCap University- Gurugram. Being an astute academician, her teaching skills have hovered around subjects like Organisational Behaviour, Human Resource Management, Career Management, Training & Development, Performance appraisal, Performance Management, Syndicate Learning Program, Industrial Management, Professional Ethics. Her area of research entails the domains of Organisational Commitment, Emotional Intelligence, Knowledge Management and others. Her extensive contribution towards numerous Books, Book chapters, journal articles, conference papers extends a vibrant reflection towards her widely ranging research interest.
Ms. Shikha Yadav, is a dedicated and accomplished academician with a distinguished career spanning over 8 years in both academia and industry. With a profound commitment to her craft, she has earned her reputation as an esteemed academician. Ms. Yadav possesses a diverse background, having accrued invaluable expertise in Human Resources across a spectrum of industries, including Manufacturing, Telecom, and Education. Her proficiencies encompass the entire HR landscape, from Recruitment and Talent Management to Training & Development, Employee Engagement, and Employee Relations.

Having earned her UGC NET qualification in Labour Welfare, Industrial Relations, and Human Resource Management, Ms. Yadav exemplifies her dedication to continued learning and specialization. Her influence extends beyond her personal accomplishments to her role as an educator, where she has orchestrated and conducted numerous sessions, webinars, and seminars at both university and departmental levels. Ms. Yadav's dynamic prowess as a speaker is evidenced by her invitations to lead discussions on pertinent topics such as Emotional Intelligence and Entrepreneurship. She actively contributes to the academic community by participating in National and International Conferences, attending seminars, workshops, and Faculty Development Programs (FDPs). Her intellectual impact extends to her contributions as an author in internationally acclaimed publications, thereby solidifying her standing as an esteemed figure in academia and HR.
About The Book
The discussion surrounding sustainable economic and management practices has taken on unprecedented significance in an era characterized by rising environmental concerns and the pressing need for responsible resource management. The comprehensive book "Sustainable Economic and Management Practices: Challenges and Future Prospects" explores the complex interactions between economic development, corporate governance, and environmental protection. The book discusses the complex issues that modern business enterprises must deal with and provides smart methods for incorporating sustainability into their fundamental procedures.
The book's focus is on management techniques that can address problems and encourage the adoption of sustainable practices. The book presents case studies of businesses who successfully made the switch to circular business models, emphasizing the advantages realized in terms of less waste and increased profitability. The book additionally addresses the value of stakeholder participation. Sustainable practices require cooperation between corporations, governments, civil society, and consumers in order to succeed. The chapters in the book explore the idea of shared value, in which firms match their goals with social demands to produce benefits for both.
The book provides a comprehensive viewpoint on the complex interplay between business management, economic development, and environmental protection. The book provides an extensive set of resources for incorporating sustainability into their business practices by addressing problems, offering case studies, and suggesting creative alternatives. It emphasizes the fact that adopting sustainable practices is not only morally just but also a strategy to build resilience, generate money, and achieve long-term success in a world that is always changing. This book serves as a guide for a future where economic prosperity and environmental responsibility coexist peacefully while corporations continue to struggle with the challenges of the 21st century.
The book entitled "Sustainable Economic and Management Practices: Challenges and Future Prospects" is divided into two volumes. Volume 1 covers sustainable consumption and production, sustainable green finance, green aspect of cryptocurrency, energy consumption, sustainable cities, circular economy, social entrepreneurship, sustainable business and development, digital economy, sustainable marketing, and consumer behavior.
Volume 2 covers sustainable consumption and production towards sustainable future, green investment, employee retention and sustainable practices, green HRM practices, sustainable research environment, contribution of environment in promotion of entrepreneurship, role of CSR in attaining educational goal, blue economy.