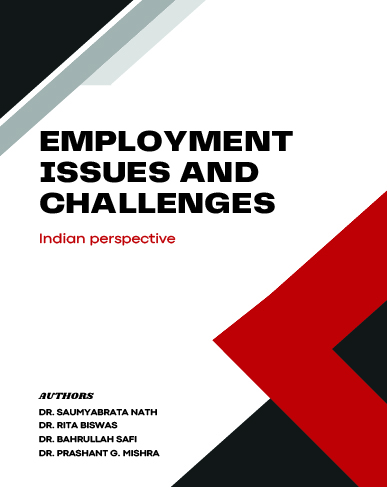 About The Authors
Dr. Saumyabrata Nath, is an Academician, Researcher & Soft Skill Trainer with around 13+ years experience in Academics and 2+ years in Industry. He has worked as Asst. Professor for MBA/MMS Dept. in different universities, colleges & institutions under VGU-Jaipur, Mumbai University, Bangalore University and Visvesvaraya Technological University - Belgaum. He is qualified with Ph.D(HR) from Utkal University, D. Litt. from Theophany University – Haiti, MBA(HR & Marketing) from Bangalore University, MBA(OM),MA(English), MA(Education) M.Sc(Maths), PGDM(Tourism), B.Ed (Maths & Economics) from University of Mumbai and B.Sc with Honors (Mathematics) from Assam Central University. He is also C-TET qualified under Central Govt. of India. He is also the recipient of Two Honorary Doctorates in Social Sciences and in Education by International Agencies affiliated to Govt. of USA and United Nations Organization.
Currently he is working as Asst. Professor & Research Scholar in Management Department (International Business) under Vivekananda Global University (NAAC A+ graded), Jaipur - Rajasthan. He is pursuing his second Ph.D in Marketing Management. Dr. S. Nath is an approved faculty for Management Studies (PG Courses) under University of Mumbai, Maharashtra. He has also worked as a Soft-Skill trainer under Infosys Campus Connect Program initiated by Infosys Ltd. Bangalore.
He has also presented 61 Research Papers in various International / National Journals and published in Scopus Indexed /UGC CARE / UGC Referred / Google Indexed, Peer Reviewed and conference proceeding books. He has published many patents under Govt. of India as well as written 3 books.
Dr. Nath is a certified Career Coach from Mindler & Career development Alliance, USA. He is also a certified Six Sigma Green Belt Professional.
He is also the member of many International & National academic forums, Conducted 50+ guest sessions, seminars, FDPs, SDPs and Workshops as a Key Resource Speaker in India & Foreign Countries and has won many National & International Awards for his contributions towards upliftment of student community.
Dr. Rita Biswas, has completed her PhD in Management, MBA in HR & 5 years LLB Course. She had done her PhD from North Maharashtra University, Jalgaon in Management discipline (Topic: Entrepreneurship). She has more than 19 years of experience, which includes 6 years of Industry experience and more than 13 years of Teaching experience in different Universities & Institutions. Presently she is working with Regenesys Business School (under Regenesys Institute of Management Pvt Ltd – South Africa) as a Senior Facilitator. In past, she hadworked with Universal Business School, under Cardiff Metropolitan University, UK. She had also worked with various Management (MBA & BBA) Institutions under Mumbai University. She taught different levels of Students from PhD, MBA, BBA & B.Tech. She had a Corporate experience as Senior HR. She had total 16 different types of International & National Publications. She has written two books on Human Resource Management. She is a passionate Teacher who likes to conduct Lectures and try to make it interesting and meaningful for her Students. She has received various Awards for her Teaching & Research Activities.

Dr. Bahrullah Safi, is Vice President International at Acacia University, Arizona, USA, (Part of Westford Education Group). He is also Academic Advisor at Myracle.io, Berlin Germany. Dr. Safi is a member of the Editorial and Advisory Board of various International Journals and of different organizations including SEMS, India, Bangladesh Business Research Foundation, International Institute of Influencers, India, and Global Ambassadors of Sustainability, UAE. Dr. Safi has worked as a Broadcaster with External Services Division of All India Radio New Delhi, and a Chancellor of Mirwais Neeka University, Kandhar, Afghanistan.
Dr. Safi has earned his Ph.D. in Management, published several research papers in national and international journals and delivered keynote speeches in many international conferences.
Dr. Bahrullah Safi is the recipient of different awards, like Best Young Director of the year award, Outstanding Educators and Researchers Award, Excellent in Academic Award and many more and he has trained many learners and corporate professionals.

Dr. Prashant G. Mishra, Currently working as Assistant Professor at PRUT Saket Institute of Management, Kalyan, Thane, Maharashtra. It is one of the reputed institute for management studies in Mumbai under University of Mumbai in India. He is an Academician with 07 plus years of experience in teaching and research field. Dr. Mishra has completed his Ph.D. in Management from Shri J.J.T University, Rajasthan. He has done his MMS, M.Com and B.Com with distinction from University of Mumbai which is 'A++' university in India. He is accented with the knowledge in the field of Communication Skill and Soft Skill to satisfying career in the field of Academics and Research. He has published and presented various papers in International peer reviewed and UGC care journals. And also participated in many faculty development program organized by various institutes.
About The Book
The term "Employer Brand" was initially used in the early 1990s to describe an organization's reputation as an employer. Minchington defines employer brand as "the image of organization as a great place to work in the mind of current employees and key stakeholders in the external market (active and passive candidates, clients, customers and other key stakeholders). Competition for talent is heating up in many industries and will probably intensify, since demographic trends make it increasingly difficult for companies to replace valued employees when they retire. Innovation and branding of HR technology is becoming vital for corporate human resource management. Branding of HR-technologies are result of adoption of innovative practice of HRM and management business sustainability.
Employer branding is central to the concept in Human Resource Marketing. With competition hottening up, organizations are constantly paying for the attention of good employees and this technique is considered to be a potent tool for attracting; engaging and retaining the right talent/culture fit that helps in the growth an organization. Employer branding activity is also about the image creation or perception of the organization in the minds of the internal and external stakeholders. This Book on Employment Issues and Challenges – Indian Perspective is intended to introduce the students to the present state of our knowledge of employment in HRM domain.