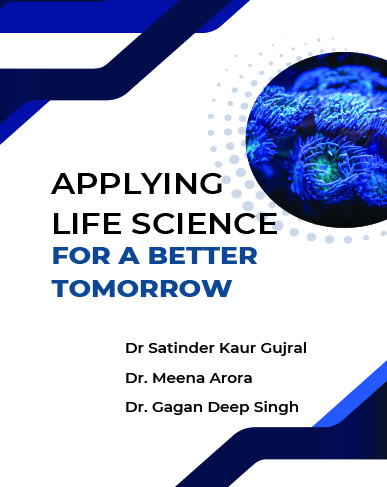 About The Editors
Dr. Satinder Kaur Gujral, is the Principal of Reena Mehta College of Arts Science, Commerce and Management Studies affiliated to University of Mumbai. She has 15 years of academic experience. She is Doctorate in Commerce (Management) and has been associated with teaching of Commerce and Management Subjects. She has been recognized as a postgraduate teacher by University of Mumbai. Her research work includes Minor research projects submitted to University of Mumbai. She has contributed number of papers in Conferences, Journals and PhD. She has published 40 Research papers in reputed National and International Journals. She is also a Paper Setter, External Examiner and Moderator for University of Mumbai.
She has to her credits author & co-author to a number of books in the field of Commerce & Management. She has been appointed as an External Referee and Evaluated 8 Ph.D. Thesis. She is a Member of Indian Commerce Association, All India Principal Association and Editorial Board Member of International Journal in Management & Social Science. She has also been appointed as NAAC PEER Team Member.

Dr. Meena Arora, is currently working as an Associate Professor in IT department at JSS Academy of Technical Education, Noida. She has done her PhD & Masters in Computer Science & Engineering. She was awarded the best Faculty award in 2001. She has presented many papers in National & International conferences. She has also published many papers in reputed Scopus & WoS Journals. She has conducted STTP on " Internet of things & Data Analytics" under AQIS scheme of AICTE and received a grant of 433333/- rs for the same. She has more than 25 years of experience in academics. She is a member of IAENG and IACSIT.

Dr. Gagan Deep Singh, is Ph.D. in computer science with more than eleven years of core academic experience. His research focuses on VANET optimization techniques through a metaheuristics approach in realistic traffic scenarios. He is currently associated with the University of Petroleum and Energy Studies, Dehradun, India. Presently he is working as an Assistant Professor at the School of Computer Science, UPES. He also has around six years of experience in systems integration and system administration. He has also led many of IT projects like Data Centre integration from physical to virtual IT Infrastructure, open source LMS for online education, optimized power utilization for the Data Centres, university surveillance project through PTZ cameras as per UGC norms, the transition of L2 network to VLAN and VPN setups. He has been a resource person for the Ministry of Culture, Government of India, for a Capacity Building Program of the National Mission on Libraries for Librarians on KOHA. He has also been an SME for UPCL and the District Institute of Education and Training, Dehradun, Government of Uttarakhand, to provide training on ICT and AI in Education. He also worked as a trainer for Kendriya Vidyalaya Teacher's training program. He also presented many research papers at national and international conferences. He has his research publications in reputed international Scopus and SCI journals also. His area of interest includes system integration, optimization, and performance.
About The Book
The life sciences have changed enormously. The technological developments accompanied by new scientific approaches and positions have made the daily practices in the laboratories of the life sciences radically different. New organizations of scientific work emerge and this has a deep social and normative impact. In these new life science approaches and practices, new norms and values are incorporated which are significantly different from the earlier forms of life science practices. Both internally and externally these new sciences have acquired new forms of descriptive and normative impact.
Life science is a vast area of study that tries to address some of humanity's most fundamental problems. It looks at anything from the ocean's surface to microorganisms that control your digestive system. It examines how we dwell, where we continue living, and how we may improve our lives. This edited book on Applying Life Science for a Better Tomorrow tries to incorporate the recent researches done in the field of Life Science which we are sure will definitely help in building a better tomorrow.