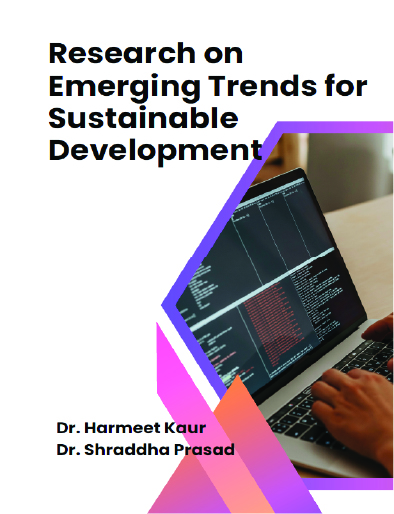 About The Editors
Dr. Harmeet Kaur, Ph. D (Management), CFA, MFA, UGC-NET, MBA
Dr. Harmeet Kaur is presently working with Jharkhand Rai University as Dean- Faculty of Commerce & Management. Her area of expertise is Finance and Business Accounting. She has more than 14 years of Academic & Research experience. In the current and previous organizations, she has been a key resource person and can deftly handle multiple responsibilities that range from teaching, planning and administering various university responsibilities. She proficiently leads, synchronizes team activities and complements the team performance
She also engages in domain related research by actively publishing various research papers and has also presented various papers both at the national and international conferences. She has many publications in Scopus indexed and UGC recognized journals. She has also authored two books. She brings in energy and fun-filled contemporary knowledge trends into the classroom that can make learning an effortless process. She is a structured personality who can proactively predict and strategize for the overall growth of the organization.

Dr. Shraddha Prasad, Ph. D (Physics), M.Sc. (Physics), B.Ed.
Dr. Shraddha Prasad is Associate Professor cum Deputy Registrar (Academics) at Jharkhand Rai University, Ranchi. She is actively involved in academic & administrative responsibilities. She has done Ph.D from Birla Institute of Technology, Mesra, Ranchi. She has done post-graduation in Physics from Ranchi University, Ranchi and B.Ed. from St. Xavier's College, Ranchi.
A number of her papers are published in different reputed International journals with good impact factors e.g. Elsevier, Scopus, WoS etc. and numbers of research papers presented by her in different International Conference / Seminars. She has also contributed chapter in a book published by Springer Nature. She has edited one book and has published one patent. She has been convener of National/ International conferences. She is an expert reviewer of reputed Journal. She is a member of reputed organizations like Indian Academic Researchers Association (IARA), The Institution of Engineers, India
She has more than 15 years teaching experience in different reputed institutes including 3 years research experience as a Project Fellow in U.G.C Project at BIT, Mesra, Ranchi. As a research guide she has produced 2 Ph.D under her supervision and presently supervising 4 Ph.D Research Scholars at Jharkhand Rai University, Ranchi.