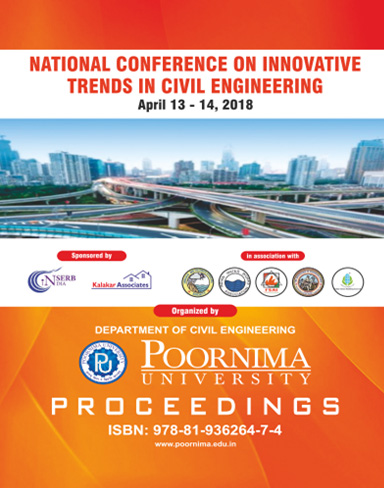 About The Book
The Conference Proceeding publish selected Research articles submitted in National Conference on Innovative Trends in Civil Engineering organized by Department of Civil Engineering, Poornima University, Jaipur held on April 13 - 14, 2018
About Poornima University
Poornima University (PU) is a private research university in Jaipur, India established in 2012 by an act of the Rajasthan legislature. Poornima University is recognized by University Grants Commission (UGC). Its architecture program is approved by Council of Architecture (COA) and interior designing program is approved by the Institute of Indian Interior Designers (IIID). Poornima University received the award for Best Upcoming University of India by ASSOCHAM, New Delhi in the year 2016. In 2016, PU had more than 2700 students from all over the country enrolled in more than 20 courses. Poornima University comprises of:
School of Engineering & Technology (SET)
School of Basic & Applied Sciences (SBA)
School of Commerce (SOC)
School of Planning & Architecture (SPA)
School of Design (SOD)
School of Management (SOM)
At present approx. 2700 students are studying in varied Under Graduate courses (B.Tech., BCA, B.Com., BBA, B.Sc., B.Arch.) and Post Graduate courses (MBA, and M.Tech.) and Doctoral Programmes in Management, Engineering and Basic Sciences in Poornima University.
We at Poornima University are aiming to promote quality education, implement innovations and experiment with upcoming techniques and technologies which shall imbibe our students with required competencies in addition to our core curriculum. The University takes pride in recruiting distinguished faculty from reputed universities and best institutes. They bring to the classroom, passion and enthusiasm for teaching, providing an intimate, interactive personalized approach to learning. The University has also introduced number of innovations in its teaching – learning methodologies. The striking increase from student strength year by year has proved its merit in different disciplines of engineering & management as well as in extra-curricular activities.