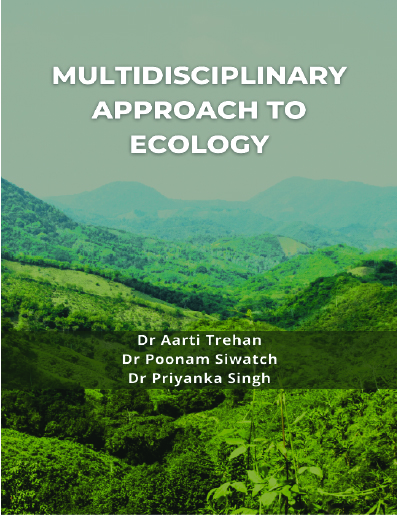 About The Editors

Dr. Aarti Trehan, an Associate Professor in Chemistry, is currently officiating as Principal, Arya Kanya Mahavidyalya, Shahabad (M.), Kurukshetra. With more than 30 years of experience in both research and teaching, a Doctorate from Panjab University as a CSIR Fellow, and master's from Kurukshetra University, she is actively engaged in fostering academic growth and excellence. She has published 12 quality research papers in reputed journals, organized and participated in seminars, workshops, conferences and has established her commitment to sharing knowledge and staying updated in her field. As Member, Board of Studies at Kurukshetra University, she has played a crucial role in shaping the academic curriculum. Her current interests include Educational Reforms and Sustainable Growth.

Dr. Poonam Siwatch, is working as an Associate Professor, Department of Physics, Arya Kanya Mahavidyalaya, Shahabad (M). She has done Ph. D. from Panjab University, Chandigarh. She has made contributions in the field of Condensed Matter Physics especially in the field of Energy production, conversion and storage devices and is guiding Research Scholars in the field of Supercapacitors, Batteries and Fuel Cells to name a few. She is an active researcher and has published 19 research papers in reputed International peer reviewed journals, 2 book chapters, 3 chapters in Conference Proceedings and has also authored 3 books. She has presented papers in more than 30 International/National conferences and has also been awarded for her research presentations. She is a life member of Vigyan Bharti, IAPT, Red Cross Society and is actively involved in the activities of these associations.

Dr Priyanka Singh, is a faculty of English at Arya Kanya Mahavidyalaya, Shahabad Markanda, Kurukshetra, India. Previously she worked as Associate Professor and Head of Department of English at JMIT, Radaur, Yamunanagar, India. She is an alumnus of Indraprastha College for Women, University of Delhi and is an Associate Fellow at the prestigious Indian Institute of Advanced Study, Shimla. In her diverse experience of eighteen years she remained Member, Board of Studies (English), Kurukshetra University, Haryana, India. Her areas of research interests include feminist studies, partition studies and postcolonial studies and Haryanvi literature. She has published sixteen research papers in reputed International and National journals and books and has presented research papers in International and National Conferences. She has chaired sessions in International Conferences, delivered expert talks at Refresher Courses, Conferences and seminars in India and abroad. She was associated with the Department of Higher Education, Panchkula as Resource Person and has prepared and delivered e-content telecasted on Utkarsh and YouTube channels of DHE, Haryana. She writes poems, both, in English and Hindi and has published a few of them in Anthologies. Her debut collection of poems is titled- Search, Sing, Shine and her edited book is titled Textual Spaces, Emerging Voices: Ecology, Culture and Women.
About The Book
Ecology exists because of the intersection of living and non-living entities and cannot be seen in isolation. This intersectional network is so complex that any variation at one point is bound to impact the other. Human intervention has undoubtedly brought about alarming changes in the environment leading to ecological imbalance. The gravity of the situation can be understood viewing the centrality of environment and its sustainability that has engaged International politics. Since environment and ecology links all, an approach to its sustainability too needs a multidimensional exposure and understanding to generate viable solutions to the ecological crisis that the entire humanity faces. This book is an effort to provide an insight to ecology and propose sustainable strategies as viewed from the point of view of scholars across different disciplines.