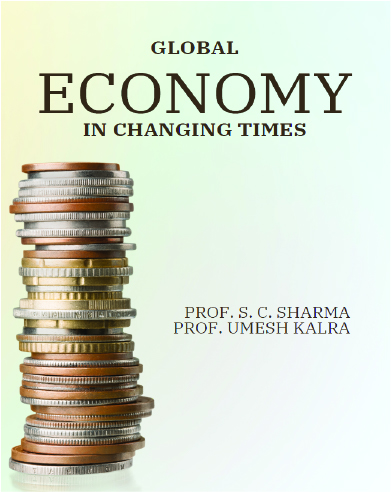 About The Editors
Professor S. C. Sharma, He has been working as Director, now Senior Director (from October, 2021) in ICFAI Business School, Gurugram (Haryana), since December, 2014. He belongs to the Indian Economic Service batch of 1971. He pursued studies at University of Delhi (Institute of Economic Growth), Bath University, England and Pennsylvania University, USA. He was Professor of Economics at Lal Bahadur Shastri National Academy of Administration, Mussoorie (1976-1982) where he was engaged in teaching, training and counseling of IAS officers.
As Economic Advisor, Steel Authority of India (SAIL), he had the opportunity of working with Dr V Krishnamurthy, Chairman, Steel Authority of India Ltd. and, inter-alia, assisted him in preparing a Report for Restructuring of Public Sector Undertakings for 8th Five Year Plan (1992-97). He was Executive Director, Housing and Urban Development Corporation, a leading financial institution of the country, for over seventeen years. In June, 2011, Prof Sharma was invited by Carnegie Corporation of New York to participate in a Symposium on Global Financial Crisis and the Future of International Monetary System, held in Shanghai, China. Prof Sharma has considerable published research work in the field of public policy and has been Editor of two reputed journals.

Prof. Umesh Kalra, Professor Umesh Kalra is with ICFAI Business School, Gurgaon, since June, 2019. Prior to this, he worked as Dean and Professor in Manav Rachna International University, Faridabad (Haryana) before taking over as Chief Executive Officer (CEO) in a reputed real estate company, AIMS in NOIDA extension for a brief period. Profession Kalra belongs to 1983 batch of Indian Economic Service. He has worked at the level of Adviser in Government of India. During his career spanning over 30 years, he held many responsible and important positions like Economic Adviser, Director (Finance) etc in economic as well as non-economic ministries such as Ministries of Industry and Commerce, Corporate Affairs, Planning Commission (now NITI Ayog), Home Affairs, Textiles, Tourism, Urban Development.
He has been in the Board of Directors of many public and private sector companies such as in one of the subsidiary companies of Indian Tourism Development Corporation, M/s Leonia Resorts Ltd., Hyderabad and is also, at present, Advisor to the management of M/s Om Sons Private Ltd, the owner of five-star deluxe property in Moradabad (Holiday Regency).
Prof Kalra has also been Dean in Manav Rachna International University, deemed to be university, Faridabad. He has taught MBA students in many reputed institutions like IMT, NMIM, AIMA, Symbiosis, Bhartiya Vidhya Bhavan, Bhartiya Vidhyapeeth, Amity etc.
About The Book
As we are aware, 1997 was a period of financial crisis that gripped much of east and south east Asia furing the late 1990s which led to the birth of G-20 nations or Group of 20 nations which control 85% of global GDP. Later the financial burst of 2007-09 happened which shook the entire financial world once again. This was followed by trade war between China and USA in 2019 and now Russia- Ukraine war going on for the last more than one year with no end in sight. All these events have resulted into the supply chain disruptions of many items like foodgrains, natural gas, essential raw materials, crude oil etc. With a view to contain the inflation as a consequence, major part of the world adopted tight monetary policies. The removal of Russa from the SWIFT arrangement of international payments following the sanctions by the NATO, further complicated the matters for global supply chains. The European Union, USA, Great Britain, China is facing the threat of recession. The ongoing war between Ukraine and Russia, Armenia and Azerbaijan, Israel and Syria, and China's threats of attacking Taiwan are indeed some of the factors which are forcing the global economies to keep their fingers crossed. The world has been facing one shock after the other continuously.
The present global developments prompted us to seek the views of the learned people from the academesia as to which way the world is heading for. Their impact on the supply chains of goods, investment and financial services have been duly considered by the authors of different chapters of the book. We hope and feel confident that the readers would certainly find each of them absorbing and thought provoking. We will be very happy to receive any suggestion required for the improvement of the book so that it serves the purpose for which it has been edited. Happy reading...