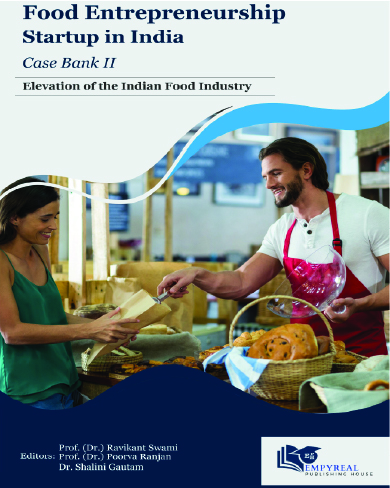 About The Editors
Dr Ravikant Swami, has a decorated and diverse educational background - a PhD in Management, MBA and Bachelors in Economics from prestigious universities in India, and certifications and trainings from B- schools like IIM Bangalore, IIM Calcutta and IIFT New Delhi. Dr Swami has an electic list of subjects at his command that credit him with the excellence of a multi-variate teaching style. He has published numerous research papers and supervised PhD thesis, dissertations at MPhil as well as MBA levels. He is the honorary director at Delhi Metropolitan Education and leads the management school with his guidance and inspiring style of teaching. He motivates a team of remarkable faculty to practise better teaching and assure better earning outcomes. His visionary attitude helps drive the institute a step closer to its mission each day.

Dr Poorva Ranjan, is a professor and head of DME Management School. She is a PhD in Retail Marketing Management and MBA in International Business Management from Devi Ahilya Vishwavidyalaya, Indore [DAVV]. She is also a certified POSH (Prevention of Sexual Harrasment) trainer. She works closely with students for skill enhancement purposes in various areas like Digital Marketing, Microsoft 365 Tools, Entrepreneurship Development, Cyber Security and Google Tools, to name a few. A Google certified digital marketer, she specialises in Social Media Marketing and Content Development. Her areas of work/ teaching and research are Digital Marketing, Entrepreneurship Development, Mentoring, Retail Management and Skill-building.
Dr Shalini Gautam, works as an associate professor in Delhi Metropolitan Education, GGSIPU. She has been working in academia for more than ten years. Prior to this, she has corporate experience of twelve years in the financial sector.
About The Book
The Indian culture is rooted in their food. The Indian food habits are unique, not only in their taste but also in their cooking methods. It reflects the complexities of Indian culture. The diversity in Indian culture, in terms of religion, ethnicity, language, castes, etc, gets reflected in the diverse culinary skills and food consumption. Our festivals, occasions, and rituals, all are associated with different types of foods. With the advent of globalization, Indians have accepted various food items from across the globe and "Indianized" them in their unique way.
The present book is a collection of various food entrepreneurs which have developed in the country. These entrepreneurs range from organic tea, teas with an infusion of flowers and real fruits, nutritious snacks, authentic flavors, and healthy beverages to indulgent meals, a variety of samosas, restaurant brand curators, quick and convenient Indian food, and delicious beers. The present book shows the journey of thirty-two food entrepreneurs and the challenges faced by them. Some of the food entrepreneurs are already big brands and some are taking baby steps toward success. The book will be invaluable for not only for food entrepreneurs but also for entrepreneurs, in general.