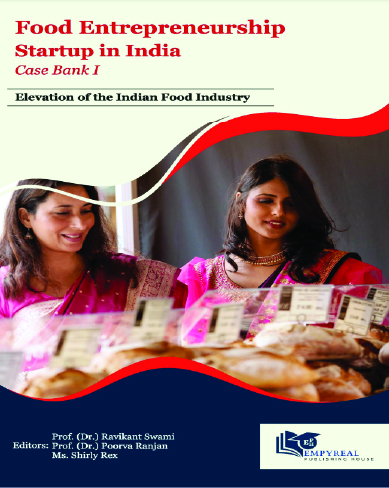 About The Editors
Dr Ravikant Swami, has a decorated and diverse educational background - a PhD in Management, MBA and Bachelors in Economics from prestigious universities in India, and certifications and trainings from B- schools like IIM Bangalore, IIM Calcutta and IIFT New Delhi. Dr Swami has an electic list of subjects at his command that credit him with the excellence of a multi-variate teaching style. He has published numerous research papers and supervised PhD thesis, dissertations at MPhil as well as MBA levels. He is the honorary director at Delhi Metropolitan Education and leads the management school with his guidance and inspiring style of teaching. He motivates a team of remarkable faculty to practise better teaching and assure better earning outcomes. His visionary attitude helps drive the institute a step closer to its mission each day.

Dr Poorva Ranjan, is a professor and head of DME Management School. She is a PhD in Retail Marketing Management and MBA in International Business Management from Devi Ahilya Vishwavidyalaya, Indore [DAVV]. She is also a certified POSH (Prevention of Sexual Harrasment) trainer. She works closely with students for skill enhancement purposes in various areas like Digital Marketing, Microsoft 365 Tools, Entrepreneurship Development, Cyber Security and Google Tools, to name a few. A Google certified digital marketer, she specialises in Social Media Marketing and Content Development. Her areas of work/ teaching and research are Digital Marketing, Entrepreneurship Development, Mentoring, Retail Management and Skill-building.

Ms. Shirly Rex, is an Assistant Professor at Delhi Metropolitan Education. She has previously worked with Fortune Institute of International Business for two years, a B-school in Delhi in the capacity of Head-Learning and Development, KPMG India for four years in the field of audit and finance. She has also been a Senior LnD Trainer with KPMG India. She did her PGDM from FIIB. She has also done her Master's in Commerce from IGNOU and graduated from Jesus and Mary College, Delhi University. She is a budding research scholar with Jamia Hamdard University and has published her research papers (Scopus Indexed).
About The Book
Food Entrepreneurship Start-Up in India is an essential guidebook for anyone who wants to start a food business in this exciting and dynamic market. With its rich culinary traditions and growing middle class, India offers unparalleled opportunities for food entrepreneurs, but navigating the complexities of the industry can be daunting. This book provides a comprehensive roadmap for building a successful food business from the ground up.
Drawing on their own experience as food entrepreneurs in India, as well as insights from experts in the field, the authors provide practical advice and real-world examples that will inspire and inform entrepreneurs at every stage of the journey. From identifying market opportunities and developing a winning product to branding and marketing, this book covers all the key aspects of building a successful food business in India.
Food Entrepreneurship Start-Up in India is an invaluable resource for anyone committed to building a successful and socially responsible food business in one of the world's most exciting and dynamic markets.