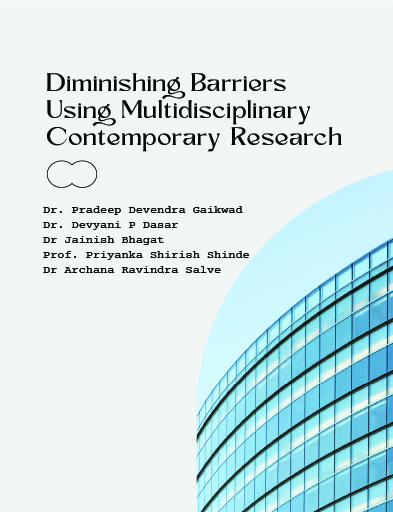 About The Editors
Dr. Pradeep Devendra Gaikwad, presently working as a Head and Associate Professor, Department of Physics in Marathwada Shikshan Prasarak Mandal's R. B. Attal Arts, Science and Commerce College, Georai Dist. Beed Maharashtra, India. He completed postgraduation and Doctor of philosophy (PhD) from Department of Physics, Dr. Babasaheb Ambedkar Marathwada University, Aurangabad Maharashtra. He has more than 14 years' experience of teaching and research in solid state Physics. He also got Rajiv Gandhi Fellowship for Doctoral research.
He has many his academic carrier like, Outstanding Scientific Award, Indo Asian Paul Dirac Distinguish Scientific Award, Award for Excellence in Research, Best Researcher Award, Global teaching Excellence Award, Indira Gandhi Gold medal Award and Dr. Radhakrishnan Gold medal Award. He presented Paper in National /International Conference at Netherland, Malesia and got best paper presentation Award in Thailand. He has published above 120 research papers in reputed journals, 09 patents ,12 article as a Chapter in Book. Published 03 Book in Reputed publishing and completed 02 research Minor projects. He is also a Research Guide have 04 Student Under his Guideness and member of Editorial Board. His Research: Interest Electrochemical Method Chemical, Biosensors and Optical fiber sensors, Remote Sensing.
Dr. Devyani P Dasar, is a Ph.D Research Guide at the Department of Shalya-Tantra of Mahatma Gandhi Ayurved College, Hospital & Research centre, Wardha, Maharashtra, India. She is currently Associate Professor and PhD supervisor and PG Guide has over 10 years of Academic and Surgical experience. She has many degrees, including a MS (Anushastra Karma), PhD and M.ED (HPE) Scholar. She has over 32 research papers published in Scopus and UGC Care Journals. She has three books in the Surgical Literature domain. She has organized and participated as a core member in numerous International and National Conferences.
She has filed one patent and 2 research projects. She has been a member of VD Good Professional Association. She has received numerous awards, including the "Best Researcher Award" "Young Researcher Award" and "Best International and National Paper/Poster Presentation Award by Various Universities. Also she has been 7 copyrights. Also She is Secretary of Hospital Infection Control Committee of NABH accredited Mahatma Gandhi Ayurved College, Hospital & Research centre, Wardha, Maharashtra.
Throughout her Medical tenure, she has successfully listed securities in both the international and domestic markets. She has successfully handled the restructuring of the entire corporate debt with better terms and enhancement for the revival of the committees.
Research interest topics are surgical, parasurgical, Fracture, Wound management, Renal calculi, BPH management through Ayurveda, Sterilization in Ayurveda, Marma Chikitsa, Pain management, LASER treatment for anorectal disorders etc.

Dr Jainish Bhagat, (Ph.D., MBA (Finance) Gold Medal, CA, PGDRM, NET JRF(Commerce & Management Both), B.Com.)
Dr. Jainish Bhagat is Associate Professor and MBA - Coordinator in the School of Liberal Arts & Management Studies of P.P Savani University. He is having 10 years of academic exposure in teaching Graduate and Post Graduate students of various specializations like Management, Commerce and Pharmacy Management. Dr. Bhagat has mentored more than 600 UG and 100 PG students for their research work.
He has completed his Ph.D. on the topic entitled "A Role of Merchant Banks in Indian Capital Market" from Dr. Babasaheb Ambedkar Open University (BAOU), Ahmedabad. He has published more than 10 research papers at national and international level with very good indexing. He has contributed the chapters in many books in the area of Financial Management, Advanced Financial Management, Stock Exchange and Portfolio Management, Corporate Financing, Corporate Accounting and many more. He has delivered as an expert and as a guest lecturer in several institutes nationwide. He has been awarded with the best paper for his work. He has participated in many national and international level conferences. He has been functioning as a professional with various industries for the last several years. Dr. Bhagat has organized and managed Management Development Programs in various institutes across the nation on both offline and online modes. His area of interest is Financial Management, Corporate Finance, Investment Management, Portfolio Management, Project Financing Evaluation, Banking, Corporate Laws, International Financial Management, and Financial Analytics.

Priyanka Shirish Shinde, working as Assistant professor at Department of MBA, Indira College of Engineering and Management, Pune. Priyanka has 8 years of experience in teaching and Industry. She completed Postgraduation and Mphil from Shivaji University, Kolhapur and pursuing Ph.d in accountancy under Mumbai University.
She is enthusiastic about carrier and development of students along with their participation in aligned activities like social/ cultural functions, sports, and socio- economic responsibilities. She has awarded Most favourable teacher.
She has published 2 research papers 1 in UGC and 1 in SCOPUS as well as published a Book for IDOl, Mumbai University. She is having interest in research and Accountancy and Taxation. Seeking to learn more about Advance Agriculture like Polyhouse cultivation.

Dr Archana Salve, B.A.M.S, PGDHHM, MBA, NET, PhD is working as an Professor & Head of the Department, Department of MBA, Indira College of Engineering and Management Pune. She has got more than 21 years of Teaching and industry experience. Her area of interest is Human Resource Management, Business Research Methodology, and Organization Behavior, Emotional Intelligence& Life skills. She has presented published more than 30 Research papers in the National and International Conferences in Scopus indexed, UGC care listed journals etc.
She has authored 8 text and reference books for MBA. She has been a Resource Person and a Chair Person in many National and International Conferences. She received Best Doctor award in 2004 in Niramaya Hospital Pune. She has received "Dewang Mehata award for Best Professor in Human Resource Management. in 2017, Outstanding Teacher Award in Academicians and researchers' National conclave & Awards 2019. ESN Award for best Professor in Management in September 2019 at Chennai, Navdurga Award 2023, Maharashtra women's legend Award 2023.
About The Book
Through this Edited Book on "Diminishing Barriers Using Multidisciplinary Contemporary Research" we want to address the Contemporary Researches being done in Multidisciplinary areas. Our aim is to showcase how recent Multidisciplinary Researches have broken all the barriers for future growth. This book talks about the Effect of Row Rates and Plant Density of Onion and Sugar Beet Intercropping then it further tries to understand Paddy Cultivation and Marketing. It also throws in-depth light into Agricultural Marketing. It tries to makes us understand how Emotional Intelligence is the Key to Successful HRM. We are sure that this book will prove to be very helpful for Academicians and Students looking into different perspective of Multidisciplinary researches.