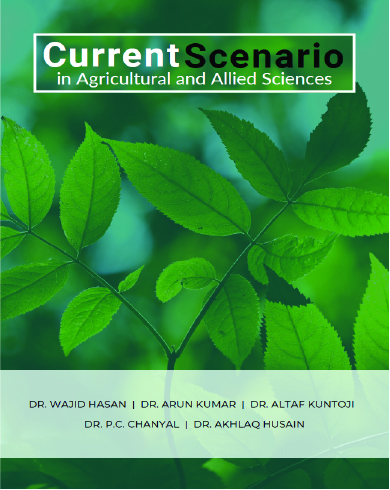 About The Editors
Dr. Wajid Hasan, PhD PDF, is devoted to research and extension activities in Agriculture Entomology. Dr Hasan is a Subject Matter Specialist in Entomology at KVK Jehanabad, Bihar Agricultural University in Bihar. He was awarded Dr DS Kothari UGC-Post Doctoral Fellow (PDF) in 2010, offered by the University Grant Commission of India. He holds a doctorate in Agricultural Entomology from GB Pant University of Agri & Tech, Pantnagar. He has good terms with farmers, and he serves them as an adviser for plant protection measures. Dr Hasan has received eleven awards from several societies for his outstanding contribution to the relevant discipline. He has fifty-eight research papers, twenty-five books, twenty-nine book chapters, thirty-nine popular articles, six success stories, two Practical Manuals, six success stories and forty-seven delivered lectures in different seminars/symposia/conferences/workshops and seven radio talks. Dr Hasan stayed as the chief organizer for eleven international conferences with more than three thousand participants each and managed a team of about three hundred co-organizers each. He has also organized 458 training programs for farmers, rural youth and agricultural professionals with 19975 participants. In addition, he has conducted three skill development training programs of 200 hours each and thirty-eight On-Farm Trials (OFT). Dr Hasan has a lifetime membership in five scientific societies. He is the Editor-in-Chief of the International Journal of Agricultural and Applied Sciences (IJAAS) and an Editorial board member for five scientific International Journals.
Dr. Arun Kumar, is a proficient researcher and author in the field of Agronomy. In his 23 years of academic experience, Dr. Arun Kumar has served in various capacities as Assistant Professor, Junior Agronomist (1998-2005) and Associate Professor (2005 – 2011). Dr. Arun Kumar has also served as the Director Planning at Bihar Agricultural University, Sabour during which he developed the Road Map of the university and headed the PME Cell and Institutional Quality Assurance Cell (IQAC) of the university. He has also served as the Dean (Agriculture), DRI cum Dean (PGS), Comptroller and Director Research at Bihar Agricultural University, Sabour. During 2021-22, Dr. Arun Kumar has also served as the Vice Chancellor of Bihar Agricultural University. During his tenure as Vice Chancellor, the Bihar Agricultural University and all its constituent colleges were accredited by ICAR and three new colleges were established under the BAU, Sabour. Dr. Kumar has also guided number of Master's and Ph.D. students and have number of publications to his credit including 37 Research Papers, 30 Edited/Authored Books, 19 Popular Articles and many more. Dr. Arun Kumar has handled various projects including nine consultancy projects of BAMETI, Patna. He has also chaired/co-chaired technical sessions of various national and international seminars, symposia and conferences. He has also led the state level committee for preparation of agricultural road map of the Bihar State. Considering his outstanding contributions to the field of agriculture, Dr. Arun Kumar has been awarded with award for excellent contribution in agriculture sector by his Excellency, the Governor of Bihar. He has done justice to all positions which were previously held by him with such admirable grace and calmness that he is an inspiration to all and Swami Keshwanand Rajasthan Agricultural University, Bikaner is strongly committed to steady development under his able leadership.

Dr. Altaf Kuntoji, is presently working as research associate under Natural Farming project, College of Agriculture, UAS, Raichur-584104, Karnataka, India. He has 1 year 5 months of research experience. His research area includes in Soil Science and Agricultural Chemistry, Plant Nutrition, Soil Fertility and Natural Farming. He has published 10 Research Papers, 4 book chapters, 10 abstracts and 3 popular articles. Qualified the National Eligibility Test conducted by ASRB on 8th April 2018 in the discipline of Soil Sciences for eligibility of Assistant Professorship. Awarded with Best Ph. D. thesis award-2021 in the third international conference of Global initiative in Agricultural, Forestry and Applied Sciences (GIAFAS-2021), by Shri Guru Ram Rai University, Dehradun, Uttarakhand, India. Awarded as Junior Scientist of the year award-2018 by National Environment Science Academy. He was Qualified for the award to Post Graduate Diploma in Intellectual Property Rights. He is a lifetime member of scientific societies. Being a multifaceted personality, he co-organized 2 International conferences at various platforms.
Dr. P.C. Chanyal, is working as Senior Assistant Professor in the Department of Geography, D.S.B. Campus, Kumaun University Nainital, UK Since 2010 and He is serving as Coordinator of EDUSAT Outreach Program egis under the Indian Remote Sensing Centre (IIRS), Indian Space Organization (ISRO), Govt. of India and he is also devoted for research and teaching at the same. He has achieved academic eligibilities as UGC-NET, Ph.D., B.Ed., D.P.Ed. and he has nominated at various National and International level for some specialized scientific and innovative training/course program. He is doing excellent research work in Application of Remote Sensing and GIS on Natural Resources Management, Climate Change Study, Disaster and Risk Reduction Management, Ecosystem and Environment services especially in Kumaun Himalayan Region. Dr. Chanyal has contributed over 30 Research Papers and technical Articles in various renowned journals of the international repute. He has also to his credit 04 standard books and reviewed more than 16 research Articles/Papers for the reputed Journals. He is guided/guiding 06 Ph.D. and 55 M.A./M.Sc. scholars and conducted more than 51 course programs on Application of Geospatial Technologies in Research and also delivered lectures as Resource Person at Administrative Training Institute (ATI) Govt. of Uttarakhand. He has awarded Distinguished Scientist Award and handled externally funded Project from the Department of Science and Technology (DST), Govt. of India. He is actively serving as the Life time member of the Indian Society of Remote Sensing, Rohilkhand Geographical Journal of India and other prestigious academic societies and advisory board.

Dr. Akhlaq Husain, is a renowned scientist and has been associated with Zoological Survey of India for 38 years on various capacities and still active working on various faunal groups. He published good number of research papers on faunal diversity, new species, new records and allied aspects in national and international journals of repute and in book chapters. He is also having keen interest in fauna of Arabia and United States and published some papers. He is member of editorial board of some journals and regularly reviewing scientific papers from various national and international journals. He is recognised research guide for Ph.D. and supervised for the degree to his students at ZSI. He got merit promotion at ZSI for his research achievements. He was felicitated by Vice Chancellor, Aligarh Muslim University for his commendable contribution in scientific field. He was selected at all India level for Antarctic Expedition and worked over there at Schirmacher Oasis in East Antarctica on micro-fauna, sea-birds and groups during the voyage and some faunal studies on way at Mauritius with new and interesting finds which were published in Scientific Report, Eighteenth Indian Expedition to Antarctica, Technical Publication No. 16, Department of Ocean Development, New Delhi.
About The Book
This book discusses the Current Scenario in Agricultural and Allied Sciences. This book focuses on agricultural technologies to boost the production and productivity. The Food demand is steadily increasing due to concerns about the sustainability of the global environment. Crops typically face increasing numbers of abiotic and biotic stresses. A significant change in climate on a global scale will impact vegetable cultivation and agriculture as a whole; consequently, affect the world's food supply. Thus, the combined efforts of crop modeling experts, agronomists, field pathologists, breeders, physiologists and molecular biologists can develop joint stress tolerant crops that perform well under field conditions. The chapters will clearly define the Current Scenario in Agricultural and Allied Sciences. We wish to express a deep sense of gratitude to those who helped us directly or indirectly during the preparation of the manuscript of this text. We hope that the book is valuable and exciting to readers, teachers, and students and would urge them to know more about recent research related to Smart Agriculture. We are highly thankful to all authors who contribute their research/ideas to enhance the book's utility.