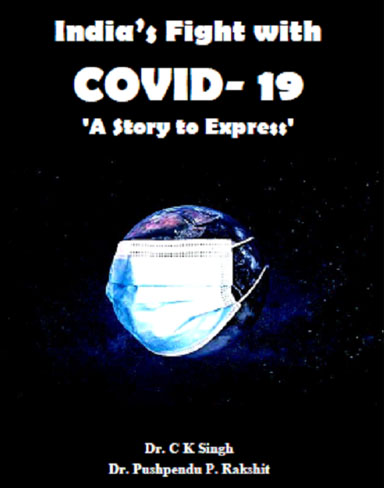 About The Authors

A senior administrative professional (Ex-IIS) and an academician with more than four decades of rich, cross-functional experience across varied segments of the communication sector at the National as well as International level. He has won acclaim from the national media relations as well as accolades from the Government for his unflagging endeavors in creating positive press relations for the various Government departments as well as the Armed Forces, both within the nation and in the international arena.
During his service tenure he had an opportunity to work in all media platforms of the government of India viz. All India Radio, Doordarshan, Rural Outreach Bureau, Central Board of Film Certification (CBFC), Registrar of Newspapers of India, Press Information Bureau and Public Relations Directorate of Ministry of Defence. An alumnus of Jamnalal Bajaj Institute of Management Studies, Mumbai where he undertook a specially designed advance management course for Armed Forces personnel.
After putting in almost 35 years' service in Indian Information Service (IIS), he took Voluntary Retirement to pursue academic aspirations, Ph.D. in Mass Media and Journalism. His last posting was as a Director, Directorate of Field Publicity, Government of India (GoI) Pune, looking after rural communication management of central government in Maharashtra and Goa. Worked as Associate Professor at Amity University, Mumbai, Maharashtra as a funder member. At present working as Professor and Dean for School of Humanities, Arts and Communication in Chhatrapati Shivaji Maharaj University, Navi Mumbai, Maharashtra, India. He holds in his credit research publications published in vivid national and international journals. Also have over 30 research papers published as an academic contribution.

A passionate person with Ph.D. in Management (I.T), MBA IT- Major in Information System Management and MBA International Business (IB) along with diploma holder in Cyber law and Advanced Cyber Law. At present working as Assistant Professor at Amity Business School Mumbai, Amity University Maharashtra, India. Skilled in the design of challenging, enriching, and innovative activities that address the diverse interests and needs of students. Efficient in corporate relationship management and supportive to administration team with teaching experience of over 12 years. Also have launched you tube channel to spread cyber awareness. Have presented research papers at BITS Pilani and IIM's. He holds in his credit research paper presentation at international e-conferences at Malaysia, UNICEF and USA. There are around 85 research paper publications at national and international level. Also have participated and presented research papers at conferences. Also have contribution in international edited books such as for Nova Science publishers, Francis and Taylor along with a Australian patent on one of the innovative ideas. A people's person who believes on strength of network.