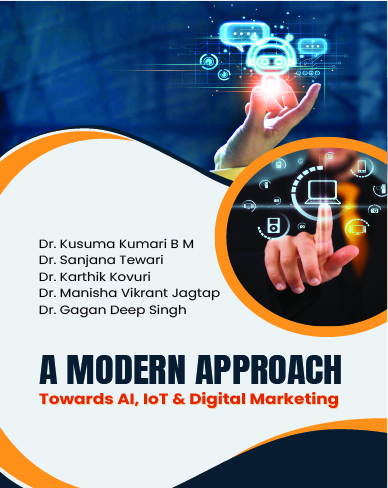 About The Editors

Dr. Kusuma Kumari B.M., is working as an MCA Coordinator and Assistant Professor in the Department of Studies and Research in Computer Applications at Tumkur University. She was awarded her doctorate from Tumkur University and has 17 years of teaching experience in academics. Her most recent research interests are in digital image processing, Artificial Intelligence and software engineering. She has presented 22 papers at national and international conferences and published more than 25 research papers in reputed refereed journals.
Dr. Sanjana Tewari, Currently working in Amrapali Group of Institutes as an Assistant Professor she is a Ph.D in Management, UGC NET and MBA in Marketing and HR along with 13 years of core academic experience. She has also been associated with management colleges in Delhi/NCR and has been dynamically involved in conducting workshops, trainings and FDPs. An excellent orator and confident person, she has been invited as guest speaker in multiple universities. She has also conducted various personality development programmes for graduate and post graduate students.
To expand her research horizon she has contributed multiple research papers in Indian and international journals of high repute. Her areas of interest include employee engagement, work life balance, digital marketing and organizational behavior.
Dr. Karthik Kovuri, is an Academician, Researcher and an Administrator. He has 18 years of experience at various academic and administrative positions in Engineering Institutions. At present, he is working as Associate Dean - Academics, Manager - Emerging Technology Center and Professor in the Department of Computer Science & Engineering at B.V. Raju Institute of Technology, Narsapur, Telangana. He designs curriculum for UG and PG technological education. He plays an active role in technological advancements in teaching-learning process.
His areas of interest include Computer Networks, Architectures, Parallel Processing, Algorithms, Cloud Computing, Blockchain, IoT and Ubiquitous Computing. He has published 28 research papers in National & International Journals and Conferences.
He represented India and delegated in the MIC Global Summit at Seattle, USA in 2014. He is the recipient of Indian Academic Leader Award-2022, Jyeshta Acharya Award, Microsoft Azure Educator Grant Award and Outstanding Faculty Teaching Award. He has written a book on "Strategic perspectives of Cloud Computing". He is a member of prestigious Educator community member from Microsoft. He has bagged five Patents and many verified certifications on the trending technologies of Industry.
He has organized and conducted many International Conferences, Workshops, FDPs, Seminars, Certification Programs and Training Programs on various advanced technologies. He is the reviewer, member of Organizing Committees and Editorial Boards of various Conferences and Journals. He is also having an experience of developing the content for various AICTE projects. He believes in "Being simple is Being smart" to be successful.
Dr. Manisha Vikrant Jagtap, has an extensive blend of industry and academic experience, with a total of 24 years of experience. Her education qualifications include a Master of Commerce in Cost & Works Accountancy, a Master of Business Studies in Marketing Management, and a Ph.D. in Marketing.
Her teaching interests include Marketing, Digital Marketing, Start-up and New Venture Management, Consumer Behaviour, Brand Management, Service Marketing, and Sales & Distribution Management. Dr. Jagtap is an avid reader and regularly contributes to national and international journals.
In her academic career, Dr. Manisha has spent a decade handling various academic activities, events, conferences, seminars, workshops, and overall coordination of the MBA program. She has conducted numerous workshops on topics such as Rural Entrepreneurship Development, Preparing Business Plans, Personality Development Programs, and Communication Skills, for both undergraduate and postgraduate students across India. She has also conducted various Faculty Development Programs on Case Discussion Methodology for management faculties across India.
Currently, Dr. Manisha holds the position of Associate Professor and Head of the Department at Dnyansagar Institute of Management & Research, affiliated with Savitribai Phule Pune University. With her rich industry and academic experience and teaching interests, Dr. Manisha Jagtap strives to provide a holistic learning experience to her students and inspire them to achieve their full potential.
Her axiom of life is – make the best of whatever you have. Appreciate the positives and live life to the fullest!

Dr. Gagan Deep Singh, is Ph.D. in computer science with more than eleven years of core academic experience. His research focuses on VANET optimization techniques through a metaheuristics approach in realistic traffic scenarios. He is currently associated with the University of Petroleum and Energy Studies, Dehradun, India. Presently he is working as an Assistant Professor at the School of Computer Science, UPES. He also has around six years of experience in systems integration and system administration. He has also led many of IT projects like Data Centre integration from physical to virtual IT Infrastructure, open source LMS for online education, optimized power utilization for the Data Centres, university surveillance project through PTZ cameras as per UGC norms, the transition of L2 network to VLAN and VPN setups. He has been a resource person for the Ministry of Culture, Government of India, for a Capacity Building Program of the National Mission on Libraries for Librarians on KOHA. He has also been an SME for UPCL and the District Institute of Education and Training, Dehradun, Government of Uttarakhand, to provide training on ICT and AI in Education. He also worked as a trainer for Kendriya Vidyalaya Teacher's training program. He also presented many research papers at national and international conferences. He has his research publications in reputed international Scopus and SCI journals also. His area of interest includes system integration, optimization, and performance.
About The Book
This Book on A Modern Approach Towards AI, IoT & Digital Marketing is an attempt to provide a platform to researchers to present their recent studies on AI, IoT & Digital Marketing. It tries to capture the changes that have taken place since the introduction of AI, IoT & Digital Marketing. It talks about how AI and IoT has made our lives easy and comfortable. It also talks about the Challenges of AI and IoT in today's era. It further gives an insight to the emerging trends in Digital Marketing. And also highlights the Challenges for Online Marketing. We are hopeful that this book will prove to be helpful for anyone seeking knowledge in the areas of AI, IoT & Digital Marketing.